From the desk of the Consul General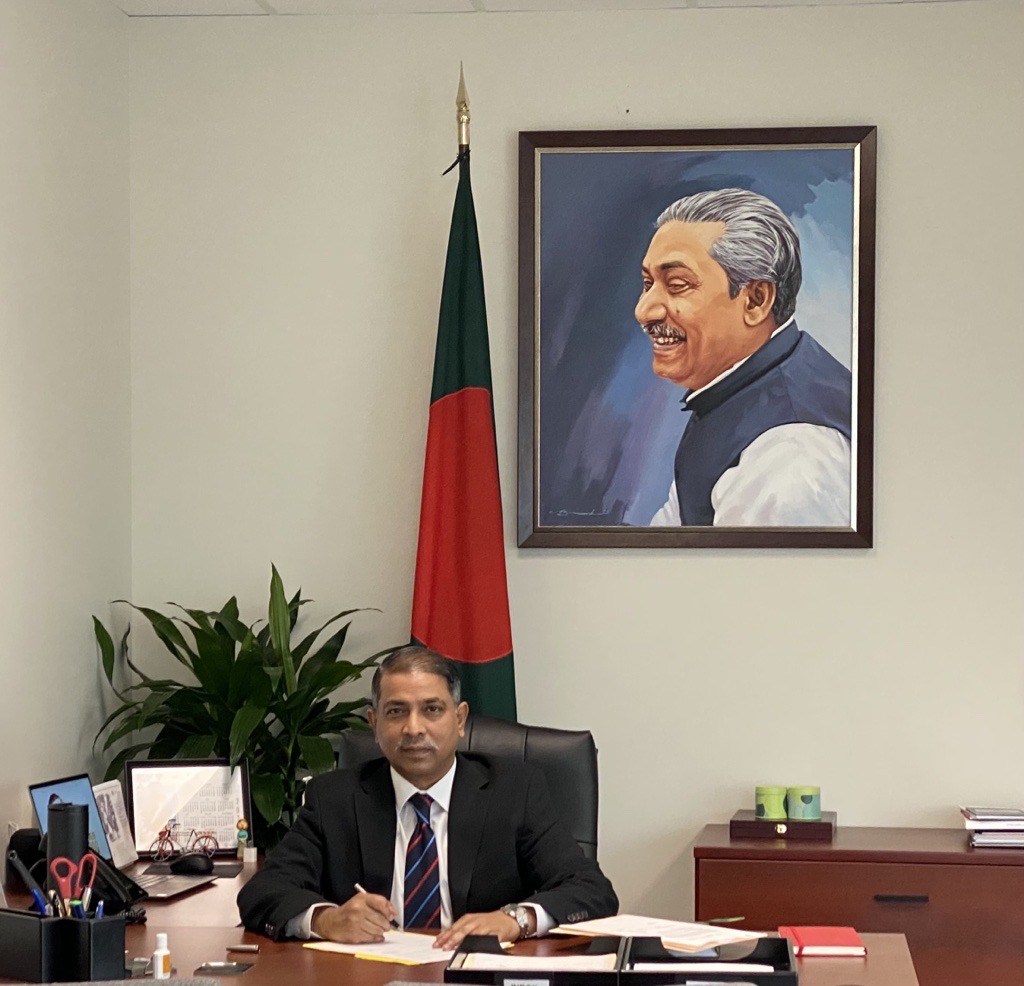 Dear viewers,
Welcome to the official website of the Bangladesh Consulate General in Toronto. At the outset, I would like to pay my deep homage to the architect of the Independent Bangladesh Father of the Nation Bangabandhu Sheikh Mujibur Rahman, gallant martyrs of the War of Independence, four National Leaders and Freedom Fighters for whom we are proud citizens of Independent Bangladesh.   
The Consulate General of Bangladesh in Toronto has been officially inaugurated by His Excellency Md. Shahriar Alam, MP Hon'ble State Minister for Foreign Affairs of Bangladesh with gracious presence of Her Honour Elizabeth Dowdeswell, Lieutenant Governor of Ontario on 2 April 2019. Opening of the Consulate General in Toronto was a commitment of the present government led by the daughter of the Father of Nation Hon'ble Prime Minister Sheikh Hasina to the Bangladesh diaspora living in Greater Toronto and south-western provinces of Canada. Opening of the new Consulate General symbolizes strong bilateral relations that exists between Bangladesh and Canada.
The new Consulate General of Bangladesh in Toronto will render all sorts of consular services to the Bangladesh diaspora and Canadian citizens living in Ontario, Manitoba, Saskatchewan, Alberta and British Columbia.
I would like to convey my profound gratitude to the Hon'ble Foreign Minister Dr. AK Abdul Momen MP, Hon'ble State Minister for Foreign Affairs Md. Shahriar Alam MP, Foreign Secretary and relevant officers of the Ministry of Foreign Affairs for their supports and cooperation in the opening of the new Consulate General. I also pay my gratitude to the Government of Canada and Office of the International Relations and Protocol of Ontario for their gracious help. I am grateful to my fellow colleagues for their dedication and sincere hard works, without them it would not have been possible to open the Consulate General within such short stint.
Dear viewers,
Beside Consular Services, the new Consulate will work on the community welfare, student welfare, cultural exchanges, education, people to people contact and trade & investment. Bangladesh Consulate General will have special focus on the young Bangladeshi-Canadians to let them know the cultural heritage and history of our independence struggle. So, that the young generation embrace the spirit of patriotism and become part of the effort to make Bangladesh a middle-income country by 2021 and a developed country by 2041 as envisioned by the Hon'ble Prime Minister of Bangladesh Sheikh Hasina. 
We tried to keep this website simple and functional, nevertheless your comments or suggestion on the website will be highly appreciated. Bangladesh Consulate General in Toronto wishes to be an example of paramount assistance to the Bangladesh diaspora in Canada. Finally, I look forward to your sincere support and cooperation in our new endeavour.
Sincerely,
Nayem Uddin Ahmed
Consul General of Bangladesh in Toronto, Canada