Foreign Secretary of Bangladesh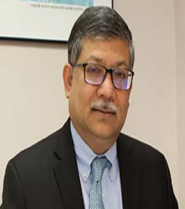 Ambassador Masud Bin Momen
His Excellency the Foreign Secretary of Bangladesh
Ambassador Masud Bin Momen become Foreign Secretary on 31 December 2019. He belongs to Bangladesh Civil Service (Foreign Affairs) -1985 batch and joined the Ministry of Foreign Affairs, Dhaka in 1988.
Prior to takeover as the Foreign Secretary Ambassador Masud was Bangladesh Ambassador and Permanent Representative to the United Nations (2015-19) in New York, Bangladesh Ambassador to Japan (2012-15), Ambassador to Italy & Permanent Representative to FAO, WFP and IFAD (2008-12). In the early stint of career Mr. Masud served as the First Secretary at the Permanent Mission of Bangladesh to the UN in New York (1992-96) and Counsellor in Bangladesh High Commission in Islamabad (1996-98), Director, SAARC Secretariat- Kathmandu (2001-04) and Deputy High Commissioner in New Delhi (2004-06).
In the headquarters Ambassador Masud Bin Momen served as the Director General for South Asia, SAARC, Non-Aligned Movement (NAM), ASEAN Regional Forum (ARF), Human Rights and the United Nations. As Director he was responsible for United Nations and Foreign Secretary's Office (1998-2001).
Ambassador Masud obtained Master's degree in International Relations from the Fletcher School of Law and Diplomacy, Tufts University, Boston, USA with distinction GPA 4.0. He received Robert B. Stewart Prize for All Round Excellence at the Tufts University. He did his Bachelor's with Honours and Master's in Economics from Dhaka University. He stood 'First Class First' in both Bachelor's and Master's degrees from his Alma Mater. He did Higher Secondary Certificate from Dhaka College and Secondary School Certificate from the University Laboratory School, Dhaka. 
Ambassador Masud achieved Chancellor's Award for securing First Class First position in Master's from Dhaka University. He was also awarded with Rector's Medal from Bangladesh Public Administration Training Centre (BPATC) as the best trainee Officer of the Foundation Training Course.
Ambassador Masud was born in Dhaka on 6 December 1963. He is married and blessed with two children.